Our Services
Bemobi can be considered as a pioneer in the distribution and monetization of applications (apps), games and mobile digital services, enabling access to complete and innovative portfolio of digital services and products to millions of users at affordable prices with easier methods of payment.
Our services may be divided into three business lines:
Apps and Games Subscriptions
With a pioneering and innovative business model, we understand that we were the first player in the Brazilian market, and one of the earliest companies in the world provide apps and games service (2013 onwards). This model was undertaken through the Apps Club, a subscription model offering unlimited access to hundreds of apps which operates on a subscription model that has already been implemented and verified for the music and video industry (e.g., Spotify and Netflix).
Our offer to users is simple: as long as the subscriber continues to pay the service subscription fee, they will have unlimited and uninterrupted access to a set of apps with no additional costs.
This approach offers a more inclusive model that doesn't require credit card payments, which were required in the early days of the services we provided in other business lines. The payments for the services are handled through mobile carriers, entered directly on the accounts of pre-paid and post-paid customers. This allows every user to sign up for the service, requiring only an Android smartphone and a mobile plan with one of the partner carriers.
Furthermore, our subscription model contains the following characteristics:
All content available on the platform surpasses US$10,000 in premium apps and in-app purchases;
A model that supplements the current Google Play model of free and paid by download apps;
Marketing with the brand of the carrier;
Free trial period of at least seven days;
Segmented offers in complete packages, one for games and the other for children.
The business model encompasses mobile carriers, app developers and Bemobi.
The Apps Club content consists of more than 1,200 carefully selected titles that are available through approximately 200 partners, including apps, developers and distributors.
The quality of the content is demonstrated through indicators bellow:
+
350
Top 1 ranking Google Play
Note:
(i) titles tagged as Editor's Choice by the traditional Apple and Google apps distribution channels;
(ii) titles ranking top in their respective categories, in at least one country where they are available; and
(iii) titles with more than 50 million downloads on Google Play.
We currently have approximately 200 content partners comprised of developers, editors, publishers and distributors handling the supply of more than 1,200 titles. Notable among them are brands such as Disney, Rovio, Viacom, Square Enix, Toca Boca and Zepto Lab, in addition to others including world-famous names such as JetpackJoyride, CrossyRoad and AngryBirds, among many others.

Microfinance
New digital services were developed to attend the needs of pre-paid users when their balance is zero (through no credit channels), in parallel we create new monetization opportunities for the carriers.
Microfinance solutions are directly linked on our proprietary distribution channels platform, presenting alternatives for the users to keep using their mobile phones at moments when they have no credit to make calls and access the internet. This solution is a strong tool for carriers, removing any conflict with "blocked" customers that have no credit to use their mobile plan.
The following services constitute this portfolio:
Digital top-up – Convenience service for purchasing top-ups through credit or debit cards.
Balance/Credit Advance – Service that provides a balance/credit advance to mobile phone users in order to keep using their phone. This advance will be paid at the next top-up by the customer. Additional fees are charged on the amounts that were loaned through this service.
Data Package Advance – Service offering a data package advance to be paid at the next top-up by the customer.
Call Advance – Service offering a minutes-package advance for customers to complete calls, to be paid at the next top-up by the customer.
The key characteristic of these services is that they are presented to customers at the right time, for example, when they are receiving a call or accessing the internet without credit.
Our microfinance solution is one of the major components for our growth strategy, which has already provided solid results. During the 3rd quarter of 2020, the monthly average indicates that we generated 2.4 million top-up transactions, representing R$44.0 million in digitally sold financial volumes.
KPI's
6.5M
# of Top-up transactions per month
R$124M
In Top-up digitally sold per month
15.7M
Of credit advances transactions per month
R$85M
Of Credit Advances digitally landed per month
14.5M
# of Call Advance transactions monthly
Note: Data for the average figures of the 2th quarter of 2021. The top-ups are in relation to the two main carriers selling the service, with credit and call advances for the carrier selling the service.
Communications
Communications services are rendered within the context of making and receiving voice calls. The Communication 2.0 concept delivers:
Visual Voice Messages (voicemail);
Artificial intelligence that transcribes audio messages into text;
Integration with WhatsApp for the delivery of messages;
Notifications for missed calls; and
Anti-spam and caller ID (By TruecallerTM).
With this portfolio, it is possible to monitor customer's activity online (caller ID and anti-spam) and offline (voice messages and notifications for missed calls). We have a new app under development for the integration of these functions.
KPI's
7bi
Intercepted calls per month
541M
Voice message deposits per month
111M
Access to voice message (Dial In and Dial Out) per month
+1,5bi
SMS notifications per month
241M
Of users with voicemail provisioned
Note: Data for the average figures of the 2th quarter of 2021, referring to four carriers in Brazil that are active within this service.
Our Proprietary Distribution Channel – Bemobi Loop
Over the past few years, Bemobi has been specializing itself in digital service distribution as evolves its distribution and multichannel proprietary platform. The concept of this platform is to deliver the right offer through the right channel and at the right time to mobile phone users.
This is a scalable platform that orchestrate offers to potential client with low acquisition costs fully supported by cloud storage and artificial intelligence.
Data Analysis
Our platform manages more than half a billion interactions per month, including sales of apps and game subscriptions, messaging and communication services, and microfinance transactions. We capture the daily routine of the users of mobile carriers in order to customize our services offers and reduce acquisition costs.
Designed for mobile carriers
Bemobi Loop is a marketing and data analysis platform that allows the management of offers to customers trying to anticipate their individual needs and allowing carriers to offer the best possible experience to every single user of their networks.
Knowledge of user behavior to recommend the best offer
Bemobi Loop identifies the best offer by understanding the profile and context of each interaction with customers, offering the most suitable products within a specific context, such as top-ups or credit advances (when users are trying to make calls or navigate on the web with no active credits).
Personalized multi-channel experience
Transforming customer voice and data navigation points of contact into relationship channels to sell digital and telecommunications products.
Bemobi Loop - Transformando dados em ações
1.
A customer's journey generates important events on a daily basis
2.
Bemobi developed relationship channels contextualized to the customer's journey, allowing for a better user experience added to monetization opportunities
3.
The most relevant services are displayed to users at the right moment
4.
User interaction with offers, in turn, generates more data, which feeds back to the platform
The platform currently supports segmentation by different types of data input, with offers arranged by pre-set rules and dynamic conversions, together with inventory management.
Integrated directly with Bemobi Loop, the No Credit Voice Portal and the No Data No Credit Web Portal are intended to assist in the digitization of the daily routines of the pre-paid customers.
No Credit Voice Portal is a call management platform that transforms opportunities that are usually lost into a better user experience for end customers, with opportunities for incremental revenues for carriers. The platform supports more than 200 million calls per month, transforming them into sales of telecommunications and digital services.
Voice Portal
(No Credit Voice Portal)
Platform KPI's
61

%

alcance mensmonthly reach of the prepaid baseal da base de pré-pago

4

Average monthly interactions (per user) *

222

M

Monthly interactions

10

M

Sales Transacted Monthly

4

Partnerships in progress with the main mobile operators
Note: Information based on our operational reports, from December 2020.
* Data related to the reference operator operating in Brazil
Value Offer
No Credit No Data Web Portal manages internet access attempts by customers with zero balances or attempted accesses that are beyond the limits of their data packages. It provides a personalized portal that allows customers to access services at the right moment, including the sale of top-ups, data packages and digital services.
Web Portal
(No Credit No Data web Portal)
Platform KPI's
52

%

monthly reach of the prepaid base

6

Average monthly interactions (per user) *

19

Ongoing partnerships with mobile operators

1

M

Sales Transacted Monthly

285

M

Monthly interactions
Note: Information based on our operational reports, from December 2020.
* Data related to the reference operator operating in Brazil
Value Offer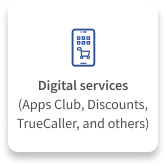 Each portal can be customized according to the carriers's brand and layout creating a personalized digital experience for mobile users. Today, there are 22 mobile carriers that already use the platforms enabled by Bemobi, giving us access to approximately 500 million managed prepaid users every month.